Forget ChatGPT…
This "$3 AI Wonder Stock"
Could Be a Financial Lifesaver in 2023!
** URGENT **
A tiny company trading at under $3 a share just got the keys to a virtually UNTAPPED $15.7 TRILLION Market
That would be BIGGER than 5G… Electric Cars… and Cryptocurrency… COMBINED!
Hey, Ross Givens here.
You don't need me to tell you what's the hottest thing on Wall Street right now.
Artificial Intelligence, or AI.
The action is off the friggin' charts!
Anyone who's experimented with ChatGPT knows what I'm talking about.
Since launching in November 2022, it took just 5 days for the Microsoft-backed chatbot to reach 1 million users…
Climbing to 100 million users in only two months…
Making it the fastest-growing consumer application in history!
One thing's for sure…
The surge in AI-related activity is whipping up excitement among investors.
Freetrade reported a 43% surge in the value of trades in AI stocks and ETFs…
Driving prices up, up, WAY UP…
And here's the crazy thing…
We've barely scratched the surface of what's to come.
This space is moving SO darned fast…
With the BIGGEST tech firms racing to get positioned.
For example:
Microsoft (ticker: MSFT) just boosted its investment in OpenAI by as much as $10 billion.
And The New York Times reports Google co-founders Larry Page and Sergey Brin are re-engaging with the company as it plans to accelerate a rollout of new AI features.
So… here's the trillion dollar question…
Who's gonna come out on top in the AI war?
Will it be a big tech titan like Microsoft and Google…
Or another big player with substantial bets on the technology, like International Business Machines (IBM), Nvidia (NVDA), and Advanced Micro Devices (AMD)?
NOPE. I believe none of the above!
You see, these companies are giants…
Their stock prices are already in the stratosphere.
Worse still, AI is only a tiny portion of their business.
So I plead with you…
If you want a shot to get FABULOUSLY RICH from the AI war…
Make sure you grab my No. 1 AI recommendation today.
No, it's not these tech giants…
I've uncovered an obscure $3-per share (as of today) company that is about to alter the generative AI landscape for good.
Founded in 2005 by a Canadian computer scientist…
It's moving fast…
By leveraging 98 registered patents for cutting-edge voice and sound recognition technology… It's already lined up a slew of major partnerships with Hyundai, Mercedes Benz, Honda, Pandora, Netflix, and many others.
And recently, I noticed some suspicious buying activity…
Causing the price to skyrocket by 260% in just 19 days!
Right now, the price is hovering around $3…
Giving us a great buying opportunity.
So, in just a moment…
I'll reveal everything I believe you need to know about this under-the-radar AI company…
Including its name, ticker symbol, and why I believe its price could go to the moon – as early as 2023.
But first, remember…
Missing a major tech breakout once hurts… Missing it TWICE is inexcusable
Today, right NOW, is your 2nd chance to strike it rich.
A chance to hit the "reset" button on your retirement dreams…
With the HOTTEST AI investment opportunity out there.
Speaking of major tech disruptions… I'm reminded of what happened with one of the biggest stock market successes in modern history … Microsoft.
They were one of the PC revolution's true pioneers.
According to CNBC, if you invested in Microsoft back on March 13, 1986 when they first went public, and you stayed invested…
Your $1,000 investment would be worth $2.49 million now.
Talk about smashing expectations.
When's the last time you had a shot at making 2,490 times your money?
That's how Bill Gates became a billionaire.
Not only him…
Thousands of ordinary people who added Microsoft to their portfolios also got incredibly rich.
Now, my friend, while this result is extraordinary and you should not count on seeing a similar performance with any specific investment…
I believe the extraordinary opportunity I'm presenting today is on par with this.
According to my calculations, the gains could even be bigger.
Of course, nothing is guaranteed. But if you take immediate action…
This one $3 stock could be an absolute "financial lifesaver" if everything plays out like I expect.
Plus you won't have to wait 20 or 30 years to reap the rewards.
The $3 AI Wonder Stock has the potential to deliver an extraordinary wealth booster shot over the next 18-24 months.
A Major New AI Bull Market is Underway
Folks, it's time to stop twiddling your fingers…
Sitting on your hands waiting for the markets to heat up again…
BECAUSE THE NEXT BIG THING IS HERE – RIGHT NOW.
Fact is, artificial intelligence (AI) is becoming a central feature in our lives.
You don't see it, but it's operating 24/7 behind the scenes.
For example, have you ever opened your cell phone with Face ID?
Paid for something using your credit card?
Or jumped into the car and plugged your destination into Google Maps?
Of course, you have.
We do these things all the time – without thinking about it.
AI is the "secret megamind" behind it all…
Arranging your Netflix menu, and powering many of the smartphone apps you use every day.
Mastercard, for example, uses AI algorithms to assess the 75 billion transactions a year processed on its network.
"94% of business leaders believe AI is critical to future success."
It's the ultimate gamechanger.
Pick an industry, any industry, and AI is going to transform it.
Get this:
Deloitte says companies using three or more types of AI have jumped from 62% to 79% – IN JUST ONE YEAR!
According to Statista, nearly 95% of all customer service interactions will be driven by AI-based platforms by 2025.
And PWC says AI could contribute up to $15.7 trillion to the world economy by 2030. That's more than the current output of China and India combined.
The race is on to build AI intelligence for data centers, self-driving cars, robotics, smartphones, drones and other devices.
Just look at what it will do to the $11.9 trillion global healthcare market.
According to The New York Times…
AI systems can outperform human experts when it comes to identifying disease.
Clinical trials confirm that AI software is better at spotting signs of breast cancer in mammograms than radiologists.
Bill Gates Says It's "Worth 10 Microsofts"
If I'm right, this is YOUR opportunity to ride the coat tails of a transformative investment that could make your life far richer…
Improving the lives of your kids and grandkids, too!
And I'm not the only one saying so…
Bill Gates is saying a breakthrough in AI could be worth "10 Microsofts."
I agree 100%.
Take a look at what he told Forbes in an exclusive interview on February 6, 2023:
"It's pretty stunning that what I'm seeing in AI just in the last 12 months is every bit as important as the PC or the internet.

As the four most important milestones in digital technology, this ranks up there."
Other top business leaders are on board as well:
Jeff Bezos, the founder of Amazon said he thinks this new technology is the key to Amazon's future.
Even super investor Warren Buffett says that it will have a "hugely beneficial social effect."
You know billionaire Mark Cuban, right?
He's a straight talker who doesn't pull punches.
According to Inc. Magazine, here's what he says about AI:
"If you don't know A.I., you're the equivalent of somebody in 1999 saying, "I'm sure this Internet thing will be OK, but I don't give a shit."

If you want to be relevant in business, you have to, or you will be a dinosaur very quickly."
You know what else he says?
The world's FIRST TRILLIONAIRE will be someone who can master AI!
You see, it's always the smart guys…
The "in crowd"… who see the massive potential before anyone else.
Well, now that ChatGPT has lit the fuse…
Here's your chance to join the big boys before this thing gets absolutely massive.
The best way to do it?
Grab my bonus report on the $3 AI Wonder Stock – for FREE!
Inside my report, I'll tell you about a tiny company that is front and center in the AI revolution…
It's rapidly changing the landscape all around us…
And for early bird investors…
Can do more to make you FILTHY RICH than practically any other stock out there.
Incredibly, this company is still a minnow in the ocean…
With a market cap less than 1/1,000th that of Microsoft.
Read this Special Report today…
Then start riding the AI wave for all it's worth!
I used to be Wall Street's Top Sniper…
My name is Ross Givens…
I've come a long way since growing up on the gulf coast in Mobile, Alabama.
You may have seen my appearances on Fox Business with Stuart Varney…
BNN Bloomberg…
Or CNBC.
My passion for trading started when I was just 12 years old.
I bought 100 shares of Microsoft…
And I never looked back.
At every step of my career, I've placed myself where the money is.
I got a degree in finance, then earned my Series 7, Series 66, and Series 3 securities licenses.
Then I went to work for a handful of Wall Street brokerages.
My work got me noticed by a major Wall Street bank, who hired me as a Vice President… Helping to manage billions in assets for some of the most affluent individuals in America.
Then I got fed up with all the greed, egos and numbing bureaucracy.
So I turned my back on Wall Street.
After all, it's the retail investor who really needs a break. Not the rich guys.
So today, I work harder than just about anyone else out there.
I put in 15-hour days… tracking 238 different sectors and subsectors – and more than 16,000 different investment vehicles – to find winning, easy-to-execute trades for my loyal followers.
I've spent 10+ years building my own private database, constantly adjusting the triggers, honing the results… all with the goal of pinpointing the TOP-RANKED STOCK opportunities in today's hottest industries.
It gives me an edge on every cutting-edge industry around the globe, including…
Artificial intelligence (The BIG story for today!)
Promising IPOs
Smartphones
Disruptive Tech
Healthcare / Pharma / Booming Biotechs
Energy Plays
Gaming technology
The Internet of Things (IoT)
E-commerce
ETFs and Sizzling Options
And much more...
Basically, ANY company… within ANY industry… that my system says is ready to LEAP FORWARD IN PRICE.
For instance, I was early jumping on the Green Revolution trend.
Take International Battery Metals (IBAT), a microcap stock with new technology to extract lithium from oil drilling wastewater.
I issued an in-depth recommendation on the stock when it was trading for 38 cents. Way before it shot up to $7.52 in 2022.
We dipped in twice – for a gain over 1,000% on each occasion!
I was also one of the first guys to jump on the big energy drink craze.
Take Celsius Holdings Inc. (CELH).
I spotted them when they were a tiny, Florida-based company on the cusp of disrupting the entire energy drink market – and potentially making early investors very rich.
Their secret? NEGATIVE CALORIES.
In other words… just drinking it makes you lose weight.
Unlike most of today's startups that swell to billion-dollar valuations before they even turn a profit, this company chose to keep its research a secret.
But I "cracked the code" and discovered what they were up to.
I issued a buy alert when shares were trading for just $2.
A few years later, the price had zoomed all the way up to $122 – that's a phenomenal 6,000% gain!
Now I can reveal my deepest, darkest secret…
Here's one question I get all the time…
"Hey Ross, what's the REAL reason that some stocks surge by 100%, 200%, 500% or more… while others stay stuck… or sink like a rock?"
Since I worked on Wall Street for more than a decade… I can tell you one very important reason certain stocks suddenly explode.
It's one most people completely miss…
Not because they're ignorant…
But because behind these sudden stock surges there are individuals ACTIVELY trying to cover their tracks… to keep you in the dark.
How do I know?
Because I used to be one of those guys!
Now that the shackles are off, I'm finally free to tell you the TRUTH.
If you want to make serious money in this market…
So what's behind so many big Wall Street winners?
Sometimes, the reason is obvious – like a big earnings report… an unexpected acquisition… or some noticeable event like that.
Unfortunately, you don't know about it until AFTER the fact.
But in many cases, a stock jumps for seemingly no good reason at all –
Leaving traders dumbfounded and frustrated about what they missed.
That's where I can help you.
You see, the REAL way to make money in this market…
Is to do what I do. Follow in the footsteps of Wall Street's deepest pockets and most knowledgeable minds.
Putting your money on the line at almost the same time they do…
Why? Because they almost never lose!
You know who I'm talking about…
Industry insiders… C-level executives… and America's top institutions (like Goldman Sachs and Morgan Stanley) who have billions to invest and can sway which way prices go.
These influential people start the ball rolling on what I call "Big Money Breakouts"…
Massive gains of 250%… 500%… 1,000% or more in the blink of an eye.
In fact, Wall Street is set up to give them an enviable edge. Letting them get IN before the big upsurge… And OUT before the price eventually goes back down.
This activity is often invisible to regular investors.
But for professionals like me, there are hints regarding what's about to happen.
Thanks to my Wall Street experience and the proprietary database I created…
I can spot telltale signals in technical trending… sudden volume bursts… volatility… and unusual price patterns that I can read like a book.
And I can spot this activity in near real-time…
So I can give you a heads-up before you hear about breakouts on Squawk Box…
Or read about them in The Wall Street Journal.
Know what can happen when we get the timing right?
The gains can be spectacular.
$350,000 RICHER on Five Big Money Breakouts!
Feast your eyes on five quick Big Money Breakout trades that… if you got the timing just right… could have made you more than $350,000 richer.
Let's start with Tesla (TSLA)… which I had the good fortune of recommending early on based on some unusual activity I was seeing…
Bingo. A sweet 614% gain.
Riding this surge wave could have let you turn $10,000 into $61,400 in profits.
In less than 180 days, too.
Now let's look at Kirklands, Inc (KIRK)…
Here, a $10,000 investment would have paid out $117,300 in big money breakout profits…
More than 10 TIMES your money… In under four months.
It happened again for Izea Worldwide, Inc (IZEA)…
A $10,000 investment, placed at exactly the right time…
Could have paid you $81,700 in profits. A super payday, right?
Same thing for Bit Digital, Inc (BTBT)…
You'd be looking at a tidy 510% gain… in under 60 days.
$10,000 in… could have led to a $51,000 gain.
And finally, let's check out the action for Riot Blockchain, Inc (RIOT)…
That's another 575% gain… enough to turn a $10,000 investment into a gain of $67,500.
Let me break it down for you.
By acting decisively on this secret "big money breakout" activity…
Getting positioned EARLY and staying invested…
You could have pocketed more than a quarter of a million dollars in profits – in a very reasonable time!
Now, will my system foresee EVERY major buy?
Of course not. The examples I just showed you are extraordinary, and rational judgment will always be needed.
There will always be some margin of error, and you need to be prepared for an occasional loss.
But let me ask you this…
How long would it take you to make this kind of cash in the regular stock market?
Years… decades… maybe NEVER!
Which leads me to the big opportunity I'm putting before you now.
I'm seeing very interesting "Big Money Breakout" behavior in the AI market right now…
Evidence shows that a major new AI Bull Market is shaping up…
If Bill Gates is right, it could transform into a behemoth as big as 10 Microsofts…
This is your chance to get "skin in the game" before the wider world sees what's happening.
Especially because I spotted some unusual activity taking place just beneath the surface.
Here's what I'm seeing…
Two insiders of a tiny $3 AI Wonder company, the CFO and a prominent board member, both bought stock on January 20.
CRUCIAL: According to my proprietary indicators, these are the first insider buys at the company since it went public.
Even the people who work there are buzzing!
This is one of the "breakout triggers" I'm always on the lookout for.
Damn, did they time that well!
The stock shot up 260% over the next 19 days.
And below is a chart of another AI stock…
It was seeing, on average, about 10 million shares trade each week.
But in each of the last three weeks, that SURGED to 212 million, 275 million, and 115 million shares.
Holy cow, that's a TON of volume…
What do you think happens when you get a 27-fold increase in demand for a tiny stock in just a couple of weeks?
A big price rise, of course.
Folks, these are just two recent examples of secret "Big Money Breakout" activity I'm seeing in the Artificial Intelligence space.
What's going on has the potential to make you an absolute mint!
It's time to up your game… and jump straight in!
No matter whether you start with $50, $250, or $1,000…
Right now, my No. 1 AI Pick is trading for just $3 a share.
Now nothing is guaranteed, but
It's your chance to get in cheap and ride it to potentially hundreds of dollars per share.
And here's the great thing…
I'll bet not one in 1 in 10,000 investors knows about this scorching opportunity!
Now, it may seem unlikely that such an AI stock actually exists.
But it does.
I only recently discovered it.
And if you move quickly – before the mainstream press gets wind of what's going on – this $3 AI Wonder Stock could jumpstart the kind of carefree life you can only dream about right now.
Getting positioned is easy…
I'm not talking about buying some complicated option trade here. It's way simpler than that.
You can buy this stock from your regular ol' brokerage account today…
But first, you'll need to know its name and ticker symbol. (Which I'm prepared to give you now.)
Just follow the steps I lay out in my FREE Special Report, and you can buy the actual stock at the real price of $3 or so. (NOTE: Price may be different by the time you claim your report.)
But this opportunity won't last forever.
The price could shoot way up at any time.
So go ahead and grab my brand new 12-page Special Report called, The $3 AI Wonder Stock that Could Make You 75X Richer in 2023.
You can get it at no extra cost as part of this special offer…
I call it the deal of the century!
If you act ASAP, you can get in early, right alongside the big money buyers who are currently loading up on shares.
Cuz the way I see it…
There are only two paths you can take from here:
Grab your stake while the stock is super-cheap – around $3. Then every time you hear about AI in the news, you can secretly grin, knowing you got in on the ground floor of one of the best opportunities out there.
Ignore this amazing opportunity. And every time you hear about AI on CNBC or in the Wall Street Journal, you'll kick yourself for missing out on the Next Big Thing – AGAIN!
Which path will YOU take?
Grab Onto a New Big Money Breakout Opportunity – Every 7 Days, for the Next 365 Days
This $3 AI Wonder Stock opportunity won't last forever…
Neither will dozens more that are popping up on my trading screens, day after day.
But here's the dilemma I was facing…
How do I get these "Big Money Breakout" opportunities into the hands of eager investors like you?
Then it hit me…
I decided to launch a one-of-a-kind weekly trading room!
Every Thursday at 9 a.m. Eastern Time, for 60 full minutes…
I'm going LIVE and uncensored in front of hundreds of folks just like you…
That's right. Every 7 days, 52 weeks a year…
I'll hand you my secrets for out-thinking and out-scoring the competition.
ONLY in my Live Action War Room can you sneak up on stocks that my system says are poised to shoot up to the moon!
I'll zoom right in on what I've pegged as the absolute cream of the crop.
Could be my #1 momentum stock… my #1 dividend paying stock… my #1 natural resource stock… my #1 growth stock… my #1 energy stock… my #1 international stock… my #1 IPO play… and many, many more.
That's what's so exciting. Nothing's off limits.
I'll be doing things in my weekly $5 Live Action War Room that may seem impossible…
It's never been easier to go for double, triple or even quadruple potential profits — with every single stock you buy.
The only rule?
My proprietary technology must score it in the top of the class…
Meaning it has the potential to deliver a minimum 250% price surge over the next 60-90 days…
So how is my system doing?
Not to brag, but here are some examples of how my pattern technology could have paid off in the real world:
+9,480% gain on Alpine 4 Technologies
+700% gain on Rion Blockchain Inc.
+180% gain on Arcimoto Inc.
+614% gain on Tesla
+618% gain on Aurora Cannabis
+385% gain on Oculus Visiontech Inc.
+510% gain on Bit Digital Inc.
+817% gain on Izea Worldwide
+7,300% gain on Gamestop
My proprietary approach could have earned you six times your money…
Seven times your money…
Eight times your money…
All the way up to an extraordinary NINETY-FOUR TIMES YOUR MONEY!
"OK Ross. What's on your radar these days?"
Today, I'm banging the table about the major $3 AI Wonder Stock that's front and center on my trading screens.
But like I said, these breakouts can happen 24/7… in all kinds of markets.
I'm seeing massive big money action taking place all over the place.
For example, the other day, I saw something strange happening with Iris Energy (IREN).
They're a Bitcoin mining company… Building, owning, and operating data centers and infrastructure for the mining of Bitcoin.
On Feb. 14, 2023, I gave the order to buy.
Less than 48 hours later, check out what happened…
We were up 144% in under two days.
The intraday action was absolutely scorching.
Let's say you waited until February 16 to get positioned.
You still had a chance to score big time!
In fact, you only needed a few hours to pocket a whopping 66.69% gain.
Too bad you weren't in my War Room when I let that one out of the bag.
But it's not too late…
Believe it or not, I view this win as a warmup to the real deal…
Because here comes what I think is The Big One…
You know, that once-in-a-lifetime opportunity to grab hold of the biggest thing out there.
And potentially transform your life for the better.
So, if you want to know what I consider the #1 BEST WAY to get invested in the booming AI market…
The EASIEST and FASTEST way is to get your hands on my latest bonus report…
It's yours at no extra cost when you join my Live Action War Room today.
My Big Money Breakout Trading System is Causing a Stir in the Industry
Because there's nothing like it out there – anywhere.
First of all, no one else had my boots-on-the-ground experience with major banks… serving the needs of America's Richest 1%.
I seized the opportunity to build a proprietary database for identifying major stock moves – IN ADVANCE.
It zooms in on the only activity that really matters: IDENTIFYING WHERE DEEP POCKETED INVESTORS AND INFLUENTIAL WALL STREET INSTITUTIONS ARE PLACING THEIR BETS.
This is what I keep telling you…
You see, these corporate insiders – I'm talking about CEOs, CFOs, board members, directors, Senior VPs, Chief Operating Officers, etc…
Plus major Wall Street institutions like Goldman Sachs, JPMorgan Chase, BofA Securities, and Citigroup…
They have privileged access to all kinds of non-public information about a company's financial health and future prospects.
So when they start buying big into their company's stock…
It pays to follow their lead.
Right now, I'm like a kid in the candy shop…
My friend, I'm neck-deep in profit-making opportunities as indicators jump up… down… and every which way.
And it's not only AI…
Inside my Live Action War Room, you never know what we'll be chasing.
Could be today's most lucrative IPO… the "next iPhone"… disruptive virtual reality… "tomorrow's Exxon"… the next big biotech titan… and much, much more.
ABSOLUTELY NOTHING IS OFF LIMITS FOR MY WAR ROOM!
It simply doesn't matter what the broader market is doing. What matters is how individual stock opportunities are faring. And I jump in the second I spot something unusual happening…
Usually triggered by a Wall Street pro, company insider, or massive institution sneakily putting millions (or billions) on the line…
We jump on that weird activity to give you what I call an unfair (and extremely lucrative) advantage for members like you.
Remember, though, you have to be super-nimble. We date stocks. We don't marry them.
Get in. Get out. Bank your gains and move on to the next trade.
That's the approach that is working so well for me.
Part of the "secret formula" that gives us a chance to sneak in and grab SUPERSIZE RETURNS… often with a SUPER-QUICK TURNAROUND.
+133% Gain in Under 3 Weeks!
Like a while ago, my Big Money Breakouts system pointed me to a beaten-down oil stock called Matador Resources.
Big Money was scooping up shares left and right…
So it was obvious they knew something that the rest of us didn't.
Here I am talking about the event as it was happening…
Well wouldn't you know…
The company released its Q1 earnings just hours earlier…
And it absolutely slaughtered expectations.
Earnings per share were $1.08 versus expectations of $0.02.
Revenue was also a beat, coming in at $371 million as opposed to an expected $223 million.
As anticipated, the stock rallied following the news…
… Giving my followers a shot at a gain of 133% on the stock in under 3 weeks!
In fact, I've kept this stock in my open portfolio…
And it's now up a whopping 1,433%!!!
Like I said, these breakout opportunities are popping up all the time…
You just need to know where to look.
That's where my War Room comes in.
You simply act on this incredible $5 joining offer today…
Then show up for my weekly Live Action War Room session (or press replay if you can't make it)…
And I'll tell you straight up what my #1… #2… and #3 top buys are for the week.
Simple enough, right?
Every Thursday at 9am, Eastern Time, I invite you to step inside my private Trading Room…
Join me as I review the overall market, pinpointing its cracks and highlighting massive new opportunities.
Nearly every time, I'll hand you a chance to access one… two… or even three high-powered, Big Money Breakout trades for your own account.
All you have to do is follow what I do, live and on-screen.
That's it. Once you get the hang of it, you'll have the ultimate edge so you can have a shot at generating impressive wins.
You could begin enjoying life-changing gains like these, 100% legally:
FUELCELL ENERGY => +780% gain in 81 days
OCULUS => +385% gain in 63 days
TANLA => +879% gain in 125 days
NOVOVAX => +900% gain in 145 days
INOVIO => +540% gain in 132 days
ARCIMOTO => +180% gain in 65 days
You have to admit…
Super-quick profits like these would go a long way toward paying for that dream vacation… or supercharged V12 sports car you've had your eye on for a while…
What's stopping you from getting there?
Let me guess…
The entry price has been a barrier before now.
Well, let's deal with that right now!
"Honestly? V.I.P. Access to my Live Trading Room for about the cost of a cappuccino?"
Have you seen how much trading services cost these days?
They routinely run $2,000, $2,500, even $5,000 per year and more…
I haven't seen many worth the hefty price tag. So I created Ross Givens' Live Action War Room to be different from anything else out there. Both in terms of the spectacular – and spectacularly QUICK – profits it can potentially deliver…
And the joining price.
Because the New AI-Fueled Burst is moving crazy fast, I'm willing to let you inside for an absurdly low price.
Today, if you act right now, you can take a 365-Day Trial for a mere $5!
That's the actual price!
Who else lets you test-drive a world-class trading service for about the cost of a Starbucks cappuccino?!
Maybe you're saying, "I'm not ready for something as powerful as this."
Guys, I've been tracking insider and institutional trade activity for years, but this is the first time I've offered the general public a chance to join me in a weekly Live Action War Room as I hunt the Big Whales…
Let me assure you…
If you've dabbled in the stock market, you have what it takes.
Right this minute, I have over 10,000 loyal followers, and they are NOT professional investors.
They don't have access to any special technology, and they wouldn't dream of staring at a PC screen for hours each day.
These are regular men and women… teachers, firefighters, and small-business owners who were brave enough to make the big switch.
I suspect you'd like to hear what these folks have to say about my other services:
Steve H. says…
"Two picks two winners!!!!"
"I already paid for my subscription service in the first two trades and it only took two weeks. It's so nice to see a service that actually delivers what they advertise. Thank you so much for this great service."
---
And Robert P. who wrote in to say,
---
And Ross D. who shows you don't need a lot of money to get started:
---
Plus here are a few more:
Their lives, as well as thousands of other investors' lives, have been transformed. Now you can join them thanks to my brand new Live Action War Room.
Hey, if I can enjoy the high life using this powerful trading system, so can YOU!
Like I said, these breakout opportunities are popping up all the time…
You just need to know where to look.
That's where my War Room comes in.
The Most Exciting — and Profitable — 12-Month Ride You May Ever Experience
But let me repeat – this could be an EXTREMELY short-lived opportunity.
Six months from now, you'll either have had a chance to potentially pocket major profits… or walked away from the opportunity of a lifetime.
Right now, I suggest you discover how to potentially cash in on the $3 AI Wonder Stock opportunity.
But I'm ONLY sharing this opportunity with members of my exclusive War Room where you'll discover under-the-radar opportunities week, after week, after week. ALL YEAR LONG!
That's where I tell you when to get in – and get out – so you have a chance to beat 99% of all traders.
Every Thursday is your chance to make 10, 25, even 75X the profit you thought possible.
Hit just one Big Money Breakout tradeand you could be $400 to $5,000 richer, or even more depending on how much you invest… based on our track record so far.
Now that my Ross Givens' Live Action War Room is up and running, I'm finally ready to spread the wealth.
(And hey, for a joining fee of just $5, that makes it even sweeter!)
I guarantee you this: The sooner you get in, the more profit you can make.
Look, this is extremely valuable information
Do you know that major Wall Street banks pay analysts $175,000 a year or more to dig up stellar investing opportunities like the ones I'll be handing you?
But I didn't create the Ross Givens' Live Action War Room to help the rich get richer.
I created it to benefit the thousands of regular American investors out there.
And nothing would make me happier than to have YOU, the ordinary investor, contact me in a month or two to tell me your dreams have been realized…
To say you've gone from being a cautious, run of the mill investor…
To being a wise and wealthy trader thanks to the Big Money Breakout trade opportunities I'll be sharing with you – EVERY SINGLE WEEK.
Remember, most investors will never even hear of these trades.
But you will.
So what do you get? Lucky you…
Your entrance fee to gain access to my Live Action War Room seems paltry in comparison to all the value I'm giving you today…
You get nearly $4,500 worth of trading secrets when you add up all this…
With My LIVE ACTION WAR ROOM
You'll Have Access to…
V.I.P. access to a new War Room session every single week – presented at 9am Eastern Time, each Thursday…
Up to 52 Big Money Breakout Recommendations a Year: Total Value $1997
A full year of complete writeups for each and every trade my strategy recommends…
12 Months Access: Total Value $997
A weekly watch list so you know which breakout trade opportunities I'm investigating…
12 Months Access: Total Value $497
My unique Big Money Breakout Trackers that scrutinize the trades after I recommend them…12 Months Access: Total Value $497
SPECIAL BONUS
Total Value $4,894
Deal of the Century:
YOU GET IT ALL FOR ONLY $5 TODAY!
Don't worry… you'll have a chance to review everything on the next page before you make a final decision.
That's a total value of $4,894.
And don't forget, once you join Ross Givens' Live Action War Room, you'll have access to me.
I've personally hit it big on enough trades to live how I want… on my own terms.
Of course, I know a lot of people out there who claim to deliver great returns.
So if you're skeptical, I get it.
But there is a way to see for yourself who really delivers.
And at the same time, you'll get all the details on the $3 AI wonder stock opportunity at the front of the AI revolution that I'm talking about today.
This company could someday be worth as much as "10 Microsofts."
Way more than Google, Facebook and Tesla. COMBINED!
And while those stocks are expensive, this one trades for just a few dollars a share as of right now.
But maybe not for long.
In the coming days, I expect to say more about this mammoth AI opportunity.
No promises, but…
I want you to be able to feel what it's like to potentially turn a $500 investment into $2,500… $5,000… $10,000 or more.
That's why I've agreed to offer you our best deal ever!
Your charter membership to Ross Givens' Live Action War Room is only $5 – a fantastic savings.
That's an awesome deal!
You'll get to join me LIVE in my Trading Room from 9am to noon Eastern Time, four times each month, for 60 minutes of breakout trading.
The trades I'll highlight are perfectly understandable…
Plus they're cut & paste SIMPLE to execute…
They're even recorded if you can't attend live.
Maybe you, too, will get a chance to seize a massive 1,000% profit opportunity – starting right now
Since this is the first time I'm going out with this $5 offer…
Clicks could be bananas, and the system may crash.
I can't say for sure that you're in until you "Join the War Room" and confirm your participation. Once you're in, you'll have access to all this:
4 LIVE sessions per month in my real-time Trading Room. This is my nerve center… a multi-dimensional trading floor where I exchange crucial information including what to buy and sell, how, and at what price. You even get to interact with me via chat during these sessions. Remember, I'll be in the Trading Room with you – working to maximize your gains, minimize risks, and make sure you're comfortable with the fast pace.
Post-Trading Room Summaries. Don't worry. Even if you miss a session, you'll always have access to video replays, plus written details of the recommended trades.
Trading Idea Tracker. Go here to track the trades we discovered during the live War Room sessions. This is a great resource to keep on top of how your real-life trades are performing.
Your V.I.P. Members-Only Website– Here you'll find anything you may have missed – including War Room archives (both video and text formats), trade recommendation performance, Alerts, FAQs, and much more.
PLUS, YOUR NEW MEMBER BONUS: The $3 AI Wonder Stock that Could Make You 75X Richer in 2023.
I'd love to share my No. 1 pick in the exploding AI industry right here and now. But my publisher says it is too darned valuable… and could crash our IT system…
So we're reserving it for new members.
That's the ONLY way you'll get your hands on this timely report.
All you need is a measly $5 to grab it.
That's a crazy good deal, right?
Well, there's more.
Join me today and I'll throw in an EXTRA BONUS that will have you jumping for joy.
I'm willing to give you access to my exclusive 3-part video series that I recorded just last week.
The package is called "3 Bankable Patterns to Help You Secure a Solid Financial Future"… and that's exactly what it is.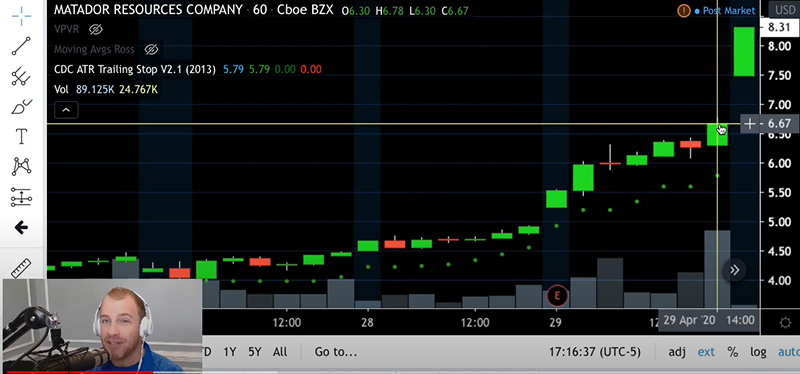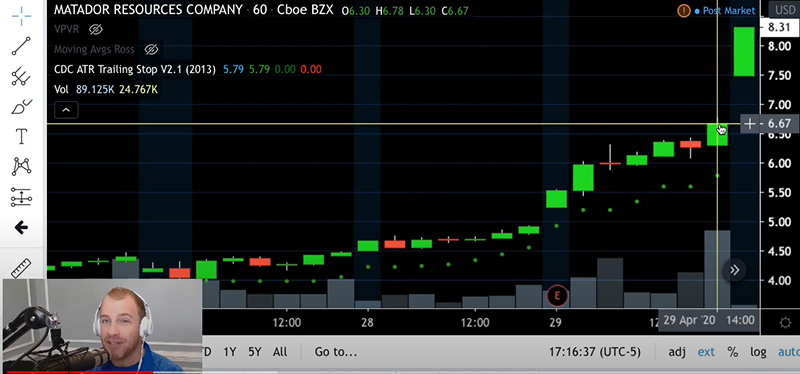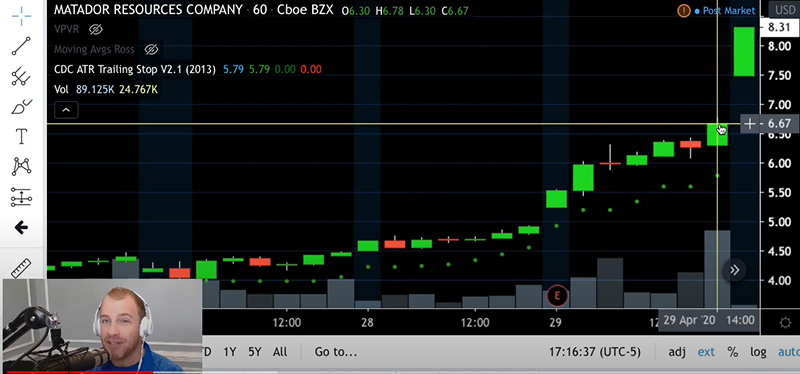 I do a deep dive on three of my all-time favorite Big Money Breakout patterns…
The kind that have allowed me to bank returns of +510%… +575%… and +615%… and way more… relatively quickly.
I'll show you my secrets for how to time big volume, volatility and price moves on stocks currently on my watchlist.
This 3-part video series is worth $295 by itself…
But I'll let you have it all – at no extra cost – as my thank you for joining my War Room today.
Now, to sum up…
Look, I know the evidence is astounding… and the trial price is extremely low
But I'm going to make it a no-brainer for you to take action.
You don't even have to make up your mind today!
Simply agree to dip your toes into my Live Action War Room now…
And you'll get my Every Penny Back No-Risk Guarantee on your enrollment price if you're not absolutely thrilled (and far better off) at any time over the next year.
Take TWELVE MONTHS to 'test drive' my weekly War Room… to kick the tires and make sure you like what you see.
You'll get my Every Penny Back No-Risk Guarantee if you're not absolutely thrilled (and far better off) at any time over the next year.
I know we're only talking about $5…
But it's important to let you know you are entitled to every penny of your purchase price back if you cancel anytime over the next 365 days. No questions asked.
EVERY… SINGLE… PENNY!
How's that for a square deal?
I'll be surprised if even one person cancels, but I want you to know I'm 100% committed to helping you get PERMANENTLY RICHER – beginning right now.
Who else gives you 365 days to make a final decision? No one, as far as I know.
So can I rush you your AI Special Report and get you started in Ross Givens' Live Action War Room today?
With a brand new trade going LIVE every 7 days… about 50 screaming buys coming your way, one after another, over the next year…
You have a lot of Big Money Breakout trades to look forward to.
And today, you can lock in a one-year membership for only $5.
That's a real steal.
So won't you join me right now?
Claiming your FREE special report… your Every Penny Back No-Risk Guarantee… and your guest pass to weekly potentially lucrative breakout trade opportunities is as easy as clicking the button below.
You'll be taken to a secure membership form.
I don't want you to miss out.
You can also call our Member Services Team at 888-483-5161. They'll answer any questions you may have so you can get started right away.
In closing, I want to thank you for joining me today for this exciting opportunity.
I look forward to seeing you inside Ross Givens' Live Action War Room.
Sincerely,
Ross Givens
Ross Givens' Live Action War Room
P.S. Don't miss your shot at cashing in on a major AI Payday. It could be the biggest one of all – enough to turn a modest investment of $1,000 into a $5,000… $25,000… even a $75,000 treasure chest, if everything goes according to plan.
P.P.S. Don't forget. I'm willing to give you my Every Penny Back No-Risk Guarantee. You're entitled to a 100% REFUND of your purchase price – NO QUESTIONS ASKED – if you're not richer at any time over the next 365 days.
Don't worry… you'll have a chance to review everything on the next page before you make a final decision.
More comfortable ordering by phone?
Dial 888-483-5161 and our dedicated Customer Service team will process your order immediately.

Copyright © 2023 Traders Agency, LLC. All rights reserved.
THIS MATERIAL IS OFFERED FOR EDUCATIONAL AND GENERAL INFORMATIONAL PURPOSES ONLY. NO INVESTMENT ADVICE IS OFFERED.
This is an advertisement for online information courses, workshops, classes and other educational programs relating to finance and investing. It is not an advertisement for investment advice. Neither Traders Agency, LLC nor its principals or affiliates are registered investment, legal, or tax advisors or broker/dealers. All content, materials and information found in any product or service that Traders™ Agency offers and that you have access to or consume must be understood by you to be for educational and general informational purposes only.
The information provided to you by Traders™ Agency is general and impersonal in nature and does not take into account your individual investment objectives, financial situations, risk tolerances, or needs. Before implementing or using any information provided to you by Traders™ Agency and before making any financial or investment decision, you must confirm the accuracy of such information and applicability and appropriateness of any decision to your personal situation with your own analysis or by consultation with a licensed/registered and qualified investment professional.
While Traders Agency, LLC works hard to ensure that the content, materials and information we provide is up to date, we cannot and do not guarantee its accuracy or completeness. Additionally, unintended errors and misprints may occur. Any commentary, analysis, opinions, recommendations, or other statements herein represent the personal and subjective views of Traders Agency, LLC and our affiliates and are subject to change at any time without notice. The content, materials and information provided by Traders Agency, LLC is obtained from sources that Traders Agency, LLC believes to be reliable. However, Traders Agency, LLC does not independently verify or investigate all such information, and therefore you must and with your registered/licensed financial advisor conduct your own verification and investigation of content, materials, and information provided by Traders Agency, LLC. Neither Traders Agency, LLC nor any of its affiliates guarantees the accuracy or completeness of such content, materials or information. To the maximum extent permitted by law, Traders Agency, LLC disclaims any and all liability in the event any information, commentary, analysis, opinion, or recommendation proves to be inaccurate, incomplete, unreliable, or results in you having any kind of investment or other losses.
Traders Agency LLC intends that the information contained in this advertisement is truthful and not misleading in any way. Accordingly, you are fully informed that none of the information, material, or courses that Traders Agency, LLC offers constitute investment advice and all such information is provided for educational and informational purposes only.
INVESTING INVOLVES SUBSTANTIAL RISKS, INCLUDING THE POSSIBLE LOSS OF PRINCIPAL. PAST PERFORMANCE IS NO GUARANTEE OF FUTURE RESULTS. YOU ARE RESPONSIBLE FOR PERFORMING YOUR OWN ANALYSIS OR CONSULTING WITH YOUR PERSONAL LICENSED/REGISTERED ADVISORS BEFORE MAKING ANY INVESTMENT DECISION.
Privacy Policy | Terms & Conditions | Risk Disclaimer | TCPA